SUBARU Automatic Transmission Solenoid A Dropping Resistor
July 2, 2011. Author: Lewis Werner
The SUBARU automatic transmission dropping resistor is connected in parallel with duty solenoid A.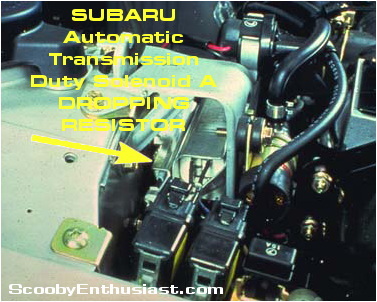 Duty solenoid A regulates the Subaru automatic transmission fluid line pressure. Like most of the transmission solenoids, duty solenoid A's duty cycle is varied by the transmission control unit (TCU) to control the line pressure.
The dropping resistor works with duty solenoid A in regulating the automatic transmission fluid line pressure. This resistor keeps a certain amount of current flow through duty solenoid A during the 'OFF' portion of its duty cycle. So in other words, duty solenoid A is never fully 'OFF'.
The dropping resistor is located on the right front shock tower, near the MPI (multi-port injection) fuel system dropping resistor. The photos at the right depict the Subaru automatic transmission dropping resistor.
If this resistor fails open, becomes disconnected, or has its wiring severed, one result might be increased shift shock. The reasoning behind this is that without the resistor in the circuit, the line pressure may be higher, since without the current passing through solenoid A during the 'OFF' portion of its duty cycle, it will tend to close further, and thus not bleed off as much pressure from the automatic transmission fluid pump.
If the resistor fails open or is disconnected, it should cause the ATF temperature lamp to flash 16 times on the next startup, since the TCU would be able to see electrically that the resistor is open.
This resistor was used on the SUBARU 4EAT phase I and 4EAT phase II automatic transmissions. It may also be used on the 5EAT though I have not confirmed it.
About the Author
This article was written by Lewis Werner. It was last updated July 2, 2011 and first published December 15, 2010. If you have questions about the article, please click here to view the author's contact information including e-mail address, telephone number and mailing address.