Subaru STI For Sale
July 15, 2011. Author: Lewis Werner
Here's how to find the best Subaru STI for sale.
How to find a Subaru STI for sale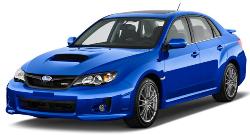 2011 Subaru Impreza WRX STI Limited 4 Door, MSRP $37,345
To begin, you'll need to decide if you're looking for a new STI for sale. If it a new vehicle is what you have your sites set on, you're probably going to be looking to Subaru dealers to provide the STI. Some people prefer to get free online quotes for their new STI through sites such
Yahoo Autos
. While the Subaru STI is a superb rally worthy vehicle, they do cater to a somewhat niche audience, so not all dealers will have them in stock. Before you visit the dealer, and ideally at least six months before you intend to purchase, you should familiarize yourself with the Subaru VIP Program.
Alternatively, you may be looking for a used Subaru WRX STI sale, and that is a great choice as well. A used Subaru STI is going to save quite a bit of money over the cost of new, since the previous owners have taken some of the hit of depreciation.
Where to find a used Subaru STI for sale
When looking for a used Subaru STI for sale, the standard places such as Craigslist, Auto Trader, eBay, and other online classified areas can be checked. Also newspapers and other media often will list this vehicle for sale. If you can't find any for sale in you area, you may need to broaden your search. The used Subaru STI for sale is not going to be as common to find as other makes.
You could look for a Subaru Certified Pre-owned STI. This program gives the vehicles an inspection of many key points, and may include a limited warranty. If the Subaru STI for sale is new enough, the original manufacturer's warranty may still be in force. And this a nice benefit of looking into a WRX STI for sale by a dealer, although the warranty is typically still in force even for owners other than the original owner if the mileage and time limits have not been exceeded. Also in some areas used cars under a certain mileage and age come with an implied warranty when sold by a used car dealer irregardless of whether the dealer says the vehicle is sold as-is.
What to look for in a used Subaru STI for sale by owner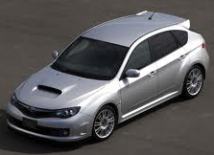 Buying the vehicle directly from the owner can save the dealer markup for reconditioning, advertising, commissions and so on. You need to pay close attention to the condition of the vehicle in this case. Let's make no mistake: the Subaru STI is a powerful rally capable vehicle. The engine is turbocharged and is capable of in excess of 300HP at fairly low RPM's. Therefore, the risk of abuse to this vehicle is high. And sometimes the warranty will not cover certain damage due to abuse.
Chipped front differential gear teeth is an example. This damage often occurs when the driver revs the engine and dumps the clutch or repeatedly launches the vehicle extremely hard. Therefore having the vehicle inspected by a mechanic familiar with this type of performance car is suggested.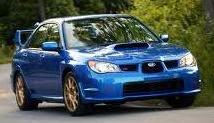 When talking about the vehicle with the owner, you can try to feel out how it was driven. If you casually bring up that you are thinking of taking the Subaru STI for sale to track days, and the owner says "oh yes I took this vehicle to track days all the time, check out these time slips!" then you know the vehicle may have been driven hard. That's not to say the vehicle can't handle it, but with any used vehicle, especially a performance rally car such as the Subaru STI, you need to proceed carefully.
Check the tires on a Subaru STI for sale
For AWD Subaru vehicles, the tires all need to match within 1/4" circumference or it may cause premature wear or damage to the transfer clutch. The Subaru STI may be a bit more reslient in this area, since the DCCD (Driver Controlled Center Differential) may be a toughened version for use in this performance vehicle.
If the tires do no match, the vehicle should be checked for torque bind. The Subaru STI for sale should be able to make tight figure eight turns on dry pavement without excess throttle. If it feels like the brakes are on or it pops or binds that is a bad sign. The DCCD should be in the automatic position, or rotated forward during this test. Also, improper towing, such as with the front wheels off the ground but the rear wheels on the ground, can cause damage as well.
Maintenance records for a used Subaru STI for sale by owner
The previous owner may have maintenance records you can inspect. Of particular interest would be the timing belt. It has a set change frequency, typically 105 months or 105,000 miles. If the belt breaks, it is possible that bent valves and/or dinged pistons can occur. So if the timing belt has not been replaced at the interval specified in the owner's manual, the buyer needs to be prepared for the expense of having it replaced, or doing the job themselves. The STI may use the low stretch performance Subaru kevlar timing belt.
Final notes on buying a Subaru STI
The Subaru STI is a popular, turbocharged rally breed sports vehicle. It produces nice power and torque at relatively low RPM, giving this vehicle impressive off the line power. A good Subaru STI properly cared for should give years of satisfaction and performance.
About the Author
This article was written by Lewis Werner. It was last updated July 15, 2011 and first published December 27, 2010. If you have questions about the article, please click here to view the author's contact information including e-mail address, telephone number and mailing address.